Welcome to Casa de Campo on the Dominican Republic´s southeast coast. With a chic, distinctive flavor of classic elegance, the 7,000 acre Casa de Campo is a beacon for travel as home to Pete Dyes´ legendary Teeth of the Dog golf course and much more. Unique, world-class facilities, refined service, and warm, Dominican hospitality captivates all ages and only begins to tell of a vacation story celebrated around the world.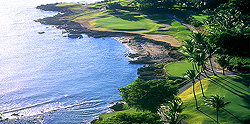 Teeth of the Dog
Teeth of the Dog
Ranked as the number one course in the Caribbean and 43rd in the top 100 courses, worldwide, by Golf Magazine, Pete Dye´s classic Teeth of the Dog attracts the best professional and amateur golfers in the world. Building this course was a true labor of love...
"The opportunity to carve out Teeth of the Dog was a once-in-a-lifetime experience," Pete Dye wrote in his book, Bury Me In a Pot Bunker. "Without proper heavy machinery to crack the coral, the tireless Dominican crew used sledgehammers, pickaxes and chisels." The result was a true masterpiece!
Tricky shots such as a devilish dogleg and signature Dye obstacles captivate the world´s best. Toss-in trade winds courtesy of Mother Nature and "seven holes created by God," said Dye, who lays claim to creating only the other eleven, and you discover the magnetic force of this amazing course.
But beware... if you dare to challenge the Dog, "at some point in your game, this Dog WILL bite you... guaranteed," chuckles Gilles Gagnon, Director of Golf at Casa de Campo.
Top-notch caddies are ready and eager to guide you through the challenge of this beautiful course.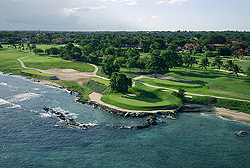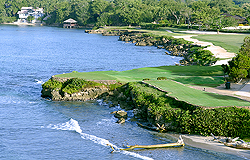 Teeth of the Dog
Dye Fore
The numbers are staggering: 7,740 yards in length; 7- CLIFF-side holes dropping 300 feet to the Chavon River below; 40 mph gusting winds - and breathtaking 360 degree views! Introducing Pete Dye´s latest gem at Casa de Campo: Dye Fore.
Of the 18 picturesque holes on the Dye Fore course, # 12 and #15 are two of the greatest par three holes in the world. "Dye Fore has spectacular views of the Caribbean Sea, the Dominican mountains - the highest mountains in all the Caribbean, the Chavón River below, the Casa de Campo Marina and the Altos de Chavón artists´ village," said Gilles Gagnon, Director of Golf at Casa de Campo. "Visually, the course is intimidating and the par three´s are in a word... incredible." The Dye Fore addition to Casa de Campo´s golf triad is said to rival the "Teeth of the Dog." Come play them both... then you tell us!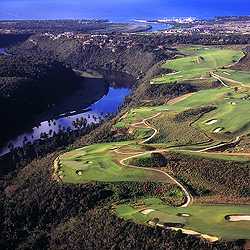 Dye Fore
The Links
The beautiful inland Links course at Casa de Campo may not seem as exciting or challenging as its sea-side and cliff-hugging siblings, but do not be deceived.
The Links is interior on the resort property with spectacular views of the Caribbean and the resort. Its moderately hilly track, with tall bahia and guinea grass roughs plus multiple sand traps keep you on your toes. Thought by some to be reminiscent of traditional British and Scottish courses, there are several lagoons and even lakes with wading birds. There are five holes where water comes into play on this course making it a challenge unto itself.
Ask any golfer who has played The Links and you will hear that this course is equally as challenging as the Teeth. It's a demanding, merciless course for the unwary, with water coming into play on five holes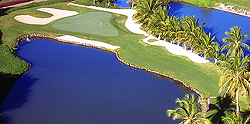 The Links
Accommodations
At Casa de Campo, your comfort is their top priority. All of their accommodations give you plenty of room to stretch out. Couples will find their rooms spacious yet cozy. Families can enjoy connecting rooms or a suite... and larger families or friends traveling together will love the private home-like comforts of their villas. Whatever accommodation choice is best for you, you will find the warm spirit of Dominican hospitality and service, along with an outstanding variety of dining, recreation, and amenities so you can relax, revitalize and relish your time at your home away from home.
| | |
| --- | --- |
| Exclusive Villa | Luxury Guest Room |
Please call us at 877-284-8107 or email us at info@fsgtours.com to plan your trip to Casa de Campo.