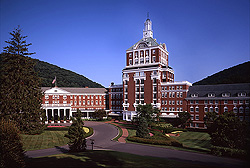 A decade before the American Revolution, The Homestead welcomed its first guests to experience the beauty of the Allegheny Mountains of Western Virginia. Today, the legendary and historic resort continues to preside over the countryside, offering unparalleled hospitality and Southern charm in a 3,000-acre setting distinguished by natural healing springs and a splendid four-season climate.
The Homestead also offers some of the country's most challenging and historic fairways. Their championship courses include the nation's finest mountain course - the legendary Cascades Course, designed in 1923 by William S. Flynn - as well as the historic Old Course and the Robert Trent Jones-designed Lower Cascades. So whether you're looking to hone your game or to walk the fairways where golfing legend Sam Snead began his illustrious career, this luxury golf resort in Virginia is the choice for you.
Cascades Course
Regarded as the finest mountain course in the country, the Cascades Course offers challenging links set against the backdrop of Virginia's breathtaking Allegheny Mountains. Sam Snead launched his career on this fabled Virginia mountain golf course, which is ranked among "America's 100 Greatest Public Golf Courses" by Golf Digest. Designed by legendary course architect William S. Flynn, the Cascades uses its varied terrain to influence play, not to dictate it. Therefore, talented players can use the slopes and roll to their advantage, but less skilled golfers will not find themselves penalized by forced carries or unfair hazard placement.
6,659-yard, par-70 course, well-known for its long, narrow fairways, fast greens, and beautiful headwaters of the Cascades Stream
Ranked #12 in Golfweek's "America's Best 100 Resort Golf Courses"
Named one of the "Top 100 Golf Courses in the United States and the World" by Golf Magazine
Hosted several USGA championships and will be hosting the USGA Women's Senior Amateur in 2009.
Old Course


The Homestead's Old Course was completed in 1892, and enjoys the distinction of having the nation's oldest first tee in continuous use. And as the game has evolved over time, so has The Old Course -- with updates by William S. Flynn and Rees Jones. Abundant fairway contouring gives most shots a side hill, uphill, or downhill lie to smallish greens, making approach shots interesting.
Donald Ross-designed, 6,211-yard, par-72 course
Built in 1892 as a six-hole course, expanded to 18 holes by 1913
Legendary No. 1 tee, the nation's oldest tee still in continuous use
Recipient of approximately $1 million in improvements, overseen by Rees Jones, in 1994
Lower Cascades Course
The waters rushing through The Lower Cascades widen into a peaceful stream at the valley floor on the Lower Cascades course. Don't let this lull you into a false sense of confidence. Designed by Robert Trent Jones, Sr. in 1963, it features Jones' trademark runway tee boxes, wide-open fairways, severe green contouring with exaggerated breaks, and strategically placed bunkers, for a competitive golf game. The Lower Cascades has hosted U.S. Men's Amateur qualifying rounds.
6,619-yard, par-72 layout, featuring long tees, large greens, rolling fairways, and the Cascades Stream
Designed by Robert Trent Jones, Sr.
For more information or to book please call us at 1-877-284-8107 or email us at info@fsgtours.com