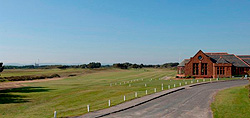 Click image to enlarge. (25kb)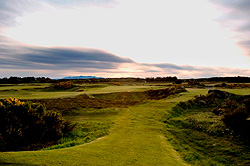 Click image to enlarge. (40kb)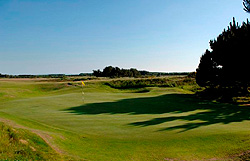 Click image to enlarge. (35kb)

Gailes lies on a marvellous stretch of links land between Troon and Irvine on the Ayrshire coast. Gailes lies in the heart of Scotland's Ayrshire Golf coast with several celebrated courses within easy driving distance: Royal Troon – 5 miles, Old Prestwick – 8 miles and Turnberry – 35 miles. Also nearby, the Loch Lomond Golf Club has recently opened their Dundonald Links course.

Willie Park of Musselburgh a former open championship winner designed the course, which opened for play in 1892. Willie kept his designs simple. He wasn't a believer in creating greens with dramatic slopes , did not much favour 'blind' shots, and particularly in the case of Gailes, left the glorious heather and gorse untouched. He always believed Gailes to be one of his best creations; generations since believe he was right.

At 6903 yards long from the championship tees with a par of 71 Gailes is a great test of golf whilst the kinder medium tees provides a fine test for players of all abilities. It is simply traditional links at its best.

The challenge starts with a steady stream of four consecutive par fours followed by the signature hole, a par five dog-leg with out-of-bounds to the right and a treacherous green that's guarded by strategically placed sand traps. It then lets up with a neat par three, only to bite back with another demanding run of five par fours.

With its undulating fairways, fine greens and subtle qualities, it is an honest test of golfing skills in true links fashion.

When a former Open Champion and the winner of the treasured Green Jacket at the Augusta National Golf Club tells you the course is 'one of the world's truly great tests of links golf' then you HAVE to listen! Such a generous verdict on Glasgow Gailes, comes from one of Scotland's most distinguished sons, Sandy Lyle.

Less than an hour from Glasgow, Gailes is a challenging links course – tough and traditionally Scottish – consistently selected by the Royal & Ancient Golf Club of St Andrews as a final qualifying venue for the Open Championship. The course has been used every time the Open has been played at Royal Troon and Turnberry.

Golf Monthly rates the course in the top 100 in the UK.

Please contact us to help you arrange your customized Scotland golf trip.