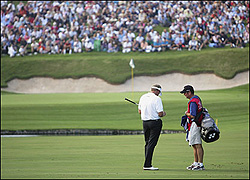 Click to enlarge image.

The Par 71 Championship Course measures 6951 yards from the professional tees. The fairways have been described by top pros and leading golf writers as the best in Europe, if not the world. It is not an easy course - nor was it intended to be. It is designed so as to call forth thought and precision for every shot.

The course was designed in 1974 by Robert Trent Jones, Sr, one of the great golf course architects, and was originally known as Sotogrande New. In 1984 it was acquired by Jaime Ortiz-Patiño along with additional parcels of land. Robert Trent Jones willingly agreed to come back and redesign his original layout of ten years earlier.

Ortiz-Patiño renamed the course Valderrama, after the ancient estate on which the land is situated. The pair shared a common aim: to create a course that would present a test of golf to the everyday golfer and the first-class player alike. Valderrama has since risen in the Golf World rankings to become the No.1 golf course in mainland Europe, a position proudly held since 1989.

No championship course in modern times has so swiftly achieved such recognition. As early as 1988, Valderrama began to host the newly-launched Volvo Masters, the flagship tournament of the PGA European Tour, and continued to do so until 1996. In 1997 the Club hosted the 32nd Ryder Cup, won by Europe in a most thrilling finish.

Next, in 1999 and 2000, Valderrama went on to host the first two editions of the World Golf Championships - American Express Championship, which were won by Tiger Woods and Mike Weir respectively. The tone for the Ryder Cup event was set by Seve Ballesteros, the Europe captain, when he walked the course with John Paramor, the chief tournament director. 'I found everything perfect,' he said. 'It's impossible to imagine a golf course in better condition. Valderrama is a private Members' club, but a limited number of starting times are offered for visitors most days of the year.

Please contact us to help you arrange your customized Wales golf trip.