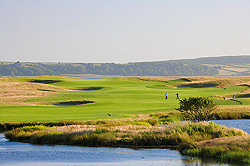 A modern links championship golf course, Machynys Peninsula has been designed to challenge the best players in championship conditions - and yet still be enjoyable for the higher handicapper, by utilizing up to five tees per hole.
The shaping of the course layout has included the creation of 25 acres of new lakes - salt and fresh water - 12 miles of irrigation pipes and six miles of drainage pipes, to ensure the course is in top condition all year round.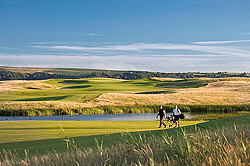 Gary Nicklaus - who has been overseeing the project design on behalf of his father, the legendary Jack Nicklaus - has identified some of his favorite and most challenging holes as the 4th, 5th, 16th, and 18th. Naming the fourth, "the most unique, a short-ish par 4 but a very challenging and a difficult one nonetheless."
He goes onto say: "The 16th, a par 4 that is played across the lake from right behind the clubhouse is probably one of the most beautiful holes on the course. The view from the green of the whole bay is spectacular, whether the tide is in or out."
Please contact us to help you arrange your customized Wales golf trip.